Usually in RPG games, it is not uncommon to face a 'boss' in a dungeon or quest who is extremely powerful. It is not uncommon for these enemies to be so much larger then your sprites. Sometimes a "bigsprite" just won't cut it…for example: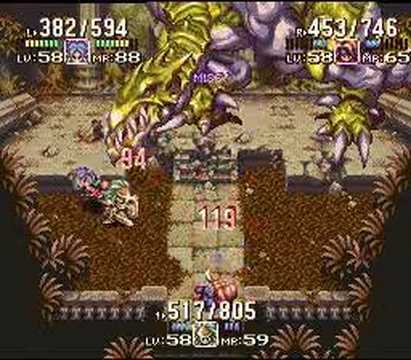 Do you guys have any ways to make this possible?
I can't think of much, all I can come up with his create a boss NPC, make it black so it will be invisible…create the stats for the boss in the npc…The boss' sprite would be in tile format, maybe two different tile sets, animate them together to give it some liveliness…block all around him then put the invisible sprite in the boss and NPC avoid around it so the NPC cannot move but if you atack the boss, the npc will attack you and visa versa…after its killed, maybe setup some sort of warp that teleports you out of there…
Haha, I don't know if that makes too much sense to you, but if it does then you can see how much of a pain in the butt that would be to create over and over again.
Any suggestions people?