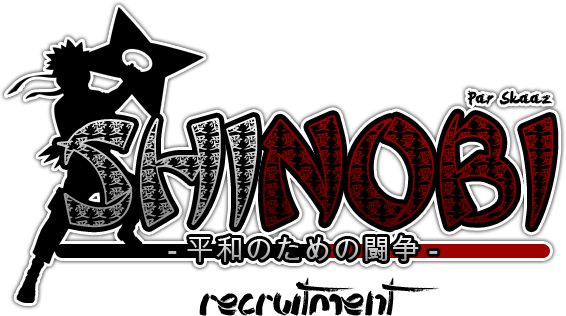 Have fun !

Presentation
Shinobi concept art is a 2D MMORPG created by Skaaz in 2012, the idea of the project is to recreate the world of the famous manga Naruto. In the game, the goal of the players is to train, killing monsters or fight other players to acquire experience, level up and pass exams to pass from one row to another, until 'to become Ninja Legendary (last row). But this is not all, players also have the possibility of having their own house in the village and they souhiatent course to create their own ninja clan and even become a deserter.

Programmers
I am looking for good programmers to ensure same quality of graphics. Programmers can take care of creating a paper doll system, but not any, when a player buy such armor samurai gold, I want this armor is only available by players who have acquired level 20 and it will be the same for the purpose and techniques, then you understand, let … Of course, as with any MMORPG, I will ask the programmers to code me a whole new interface. I would also like to start the game, the player choose his village and four in the player's status on the banner image voyent the village he chooses. Programmers also create a system of language choice, English and French for the moment.
And of course the best for last, I would like you to create a system of ninja fighting contest.

Mappers
Mappers need them to finish what I started, finally, of course, they will remap what I already mapped to another engine, the mapping is straightforward. All major cities are divided into 9 parts, North East, North West, Central, Central East, Central West, South East, South West. I'm looking for Mappers the same level as me.
For tilesets, I already create a complete tileset, I am currently creating the last, Suna.
!
!
!
!
!

Moderators
We are looking for moderators in-game and forum, so those features is proposed to moderate the forum and the game at the same time, we are looking for staff very helpful.

Compensation
Since the former French team was dissolved (as in making mmorpg, most French are really bad), I have to recruit a full team, I wish the quality and speed. And of course, since players can buy Shinobi Art Ryos and bronze coins (in-game currency) via paypal, and according to my statistics there will be about more than 1400 € / month whit donations, the full team will be paid per month, it will have its percentage of what we collect.
Thank you for your lecteure, you can contact me via PM, email and skype. Sorry for my spelling, again remember that I'm french
Email: z.skaaz@gmail.com
Skype: sheeka.dm