This game throws you right into the magical land of Orderia, You start off in Ogre country where the local Ogres started a Small settlement in the woods called Callapar. The ogres believed that Elephants were the gods and worshiped them accordingly. Throughout the Forrest community known as Callapar you will see many statues and tributes to these Elephant gods. Right Now there is 145 items, 40 different magic spells, about 15 different mele skills. I am working on npc's so the land is not so empty. As of now I have farming, woodcutting, and fishing as the main resource skills. There will be any more, I just need to finish drawing the graphics oriented with them. All trees seen on map are chop-able, all fishing areas are fish-able, and all gardens with vegetation are able to be gathered. All equipment will be paperdolled, once I come up with a good base sprite for players.
Additional information can be given upon request, I don't want to disclose to much information to the public because the game is still in development.
Within a month i believe I will be conducting a closed beta testing for the game. If any of you are interested in possibly helping test the game, please leave some sort of contact information below. Also you can go like the newly created facebook page (made today) that will act as a sort of development blog for the game. If you like the f.b page it will be much more easier to contact you.
http://www.facebook.com/pages/Lands-of-Orderia/561317750546496
Village of the Deppens (human is not complete, that is jsimply a base, and yes I know hes nakid)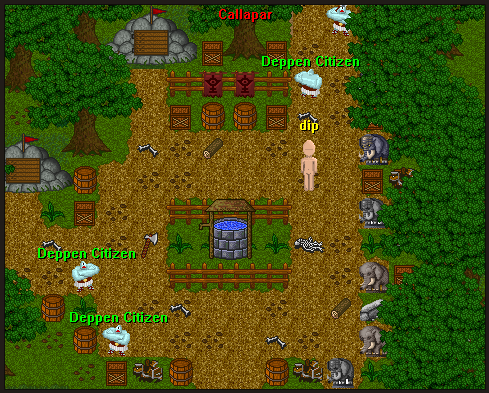 Display some items (We currently have 180 items in game, the menu layout and buttons seen here are subject to change.) and skills on the hot-bar.