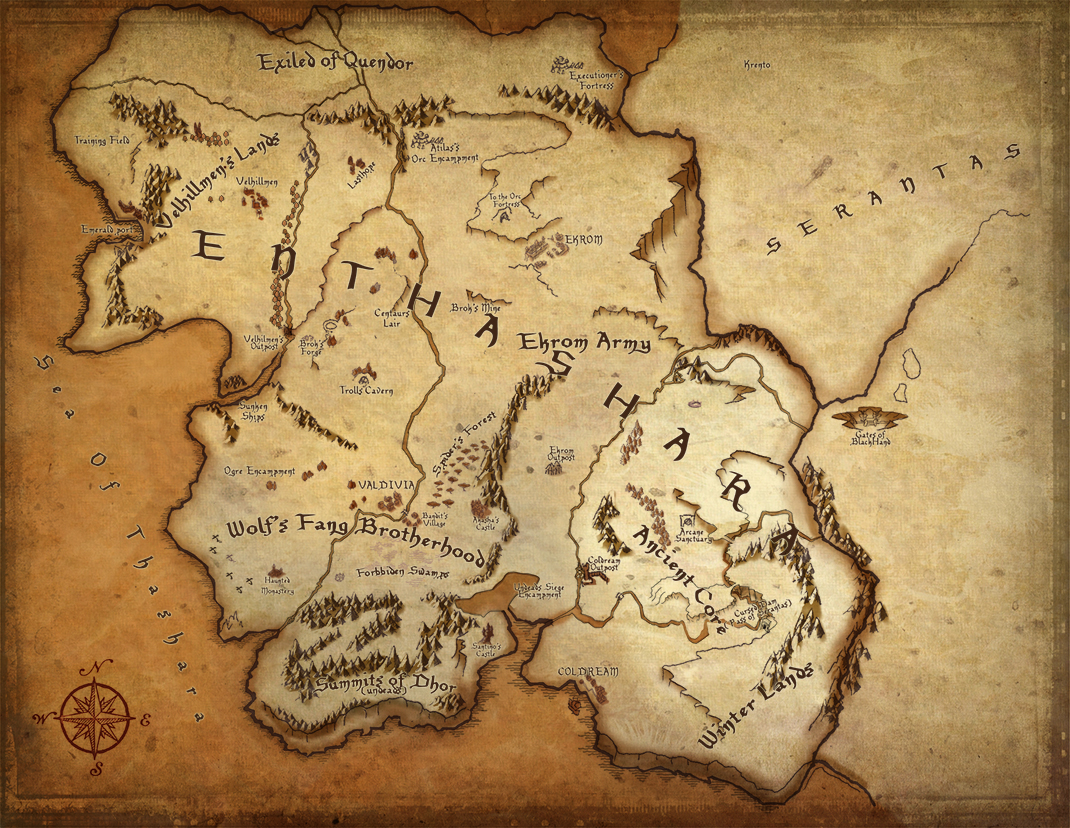 The kingdom without king
"…In a land of magic and mystery
a kingdom falls asleep by unknown powers…
A kingdom without king.
The last king, the wise Albert died
by the hand of a strange sick…
his heir to the throne, Prince Valkan is lost.
Three spirits, three Forces…
Three factions fight for the kingdom
Voices in the chaos say
rumors about the rise of an undead army coming from the south…
Both the day and night seem to scream
Nature cries the wounds left by those undeads behind…If Valkan returns…
gloriously he will command the final war against the undead invasion.
… Where is he?.. Is he really dead, as Henry thinks?
what about you?
what feels your heart?
What might you choose?.."
Disclaimer : "Enthashara's Tales based on costum orpg map from Warcraft 3 by Blizzard. Warcraft is a registered trademark of Blizzard. Enhthashara's Tales are in no way affiliated with Blizzard and function as a non-profit fangame."
Enthashara's Tales is a fan game based on the game Enthashara's Warcraft 3 Map.  The map is pretty fun it's an ORPG map i enjoy it alot but my friend who is the Maker of the map is busy with real life and sometimes we need to wait for about 3-6 months for a new updated map. So, i decided to make the Online version but in 2D. This game will have Faction System (need to find someone to add this feature, i'll pay but the currency of $ with rp is like Rp 140k = $10 so it's kinda expensive to me) Each faction grant you a bonus Faction Bonus. There's 4 Factions in this game each faction grants different
Bonus.
I will update about this Information Later
 Now just go to the what we have inside the game
Faction
Ekrom Army
"The Ekrom Army" is led by Baron Henry, and his songs says that they are the legitimate defenders of the kingdom. Faction bonus:+6147 HP bonus
Wolf's Fang Brotherhood
"The Wolf's fang Brotherhood" is home to people called rebels. They are declared Valkan main supporters, and expect a return to claim the throne. Nothing indicates about if their loyalty is true. Faction bonus: +4500 damage
Ancient Core of Enthashara's Brotherhood
"The Ancient Core of Enthashara" former home of sages and arcane mages always have declared themselves neutral, but the voices says some of their hearts are corrupted in the middle of the essence. Faction bonus:Adds +6147 Mana bonus
Blackhand Brotherhood
There is another force, a force that has never been known, only fables tell about this force "The Black Hand Brotherhood". Some people believe that they are behind the undead invasion but at this time nothing can be true and nothing can be false.
Classes
Novice
Novice Class is the first class in game. This stage gives you the genre and race paths to follow. Plus in game, novice's area was created thinking on training grounds for new players with quests & tutorials about game system and gameplay experience.
Novice class divided into 3 that is Human, Orc and Elf. Each has 3 different next Classes.
Human
Novice Human is a hardworking character with good strength. Can learn basic surviving skills.[Novice power][Windwalk][Chainlightning][Inner Fire]. Human novice allows you to choose between Warrior, Soldier and Magician.
Warrior. Warrior Class was created for massive melee damage dealer. His skills allows hero to devastate any oponent while he is recovering life. Warrior can evolve to Knight Class at level 40, You can learn [War Scream][Vampire Groan][Phoenix Light][Frenzy].
**Knight. **To reach knight Class make sure you already level 40 and has good equipments, after that you need to find Baron Henry and talk to him, he will give you a Test by slaying an Elite Monster. Once you done go back to Baron and he will make you Knight. Can learn [Relax][Sword style][Accuracy]
Dark Knight. To reach Dark Knight you need level 85 and must have level 75-80+ Equipments because the Test gonna be so tough. You must complete Way to the oracle quest and after you complete it you will meet a strange guy who will make you into Dark Knight. Dark Knight can learn [Impale][Battle Expertise]
Ima update this later since it's 1 AM in my country
 oh yeah maybe i will add more Skills, Items, Etc. So, what i said up there is not final or fix that it would be like that ehehe. night guys