Introduction
I bring here a great chance for investment. Vofawus was a project launched in 2014, with a great critique of the maker community, which raised in total 850 real in just one week. I will present them with its peculiarities and explain the chances you have with this project in a few steps.
Index
The gameplay
The security
systems
FAQ
Contact forms
The gameplay
Vofawus has a unique system of exploration and battle. In the game, there are several items and hidden skills that can only be found through exploration, the game has a large map and forth several opportunities "builds", you can create characters of various elements and various fighting styles, for example, a fire swordsman, or a wind mage. Remember, the game also has a PVP and PVE balanced system that keep the increasingly interesting game.
The game currently has a total about 100 30x30 size maps, a huge variety of items and spells, and various monsters and quests to make the game much more attractive and less cloying.
The security
At game launch, there have been many attacks and attempts to crash the server, and this allowed the team to fix all single faults found in the source code, and code various security schemes to prevent the use of hacking and attempts to spam. Thanks to this, the game is actually safe, you will be assured that your project will not be ruined. Programs like **WPE PRO **cant crash the game anymore.
Features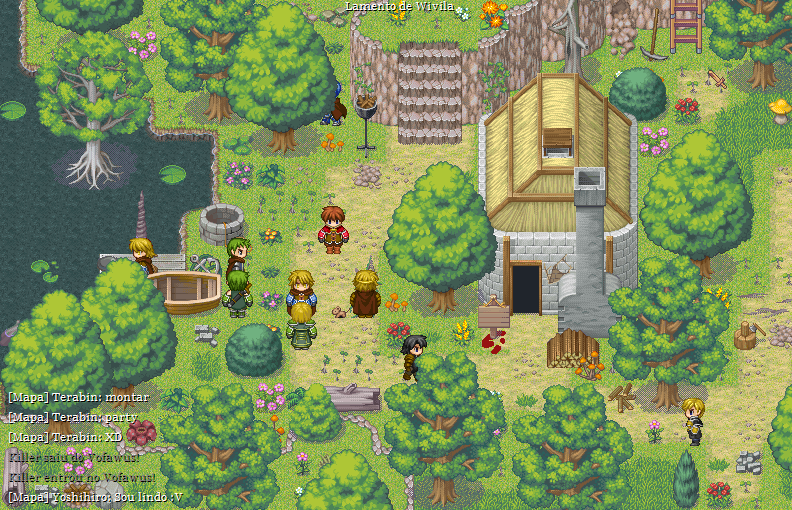 The project has several unique and complex systems that allow the game become more interesting. Below some systems and their descriptions.
Pet
The mascot you system is a strong point of the project, it allows the player evolve your pet, and give various commands to it, such as "explore" "attack!" "Next!", The exploit causes the mascot skirt walking the map in search of an enemy, and hunting without the player needs to move, attack, causes the mascot head towards the enemy and fight it, then , makes the pet follow the player.
Elements
The attributes are actually elements that fortify weapons of the same element. For example, a sword of fire will be stronger in a character who raised your fire element. The same goes for spells, an air of magic is more efficient in a character who raised his air element.
FullScreen
Our awesome unique fullscreen system (800x600)
IA and monsters with magic
The monsters are smarter and use spells against group which makes a battle against a much more interesting boss, since even poison spells there.
System missions
The missions are not mandatory in Vofawus, however, they can give you unique abilities, or even rare items, and of course, money.
Winvys Store
The Winvys store is virtual currency store achieved through real money, it is present in the game and can be accessed directly in the game menu at any time.
Character Creation
The character creation is random, your character is automatically generated, you will be unique in the vast world of Vofawus.
Hidden Items
In vofawus many scattered items that can be found in secret places,
There are many other unique systems that you can check in the project.
FAQ
How much?
40U$D via Paypal, If you want our official Vofawus facebook page and IndieDB Page with 600 likes it adds more 15U$D.
https://www.facebook.com/vofawus
How can I buy this project, and why it is for sale because it was so promising?
You can buy contacting me here in EO Forum, or simple posting here in this thread, it is for sale because im now workling on project called Wing Of Misadventure.
It is done in what language?
vb6
This price is really fair?
If it was possible to profit twice that in a week, I believe it is!
I've never heard of Vofawus, this is true?
Google it.
The game is in Brazilian language?
Yes, you need modify it in source if you want all in english (i can help you)
You give some support after the sale?
Of course, all problems will be solved if found.
Other ScreenShots
Boss Fight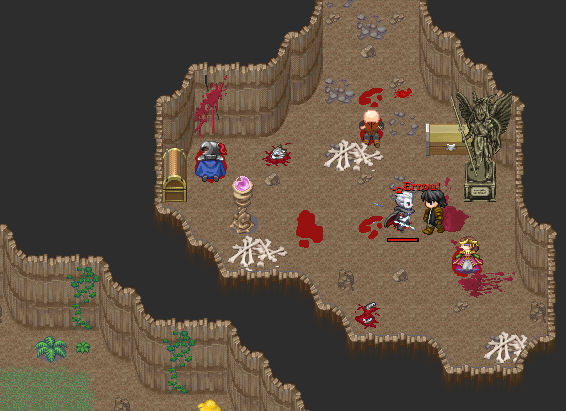 A look into interface and tips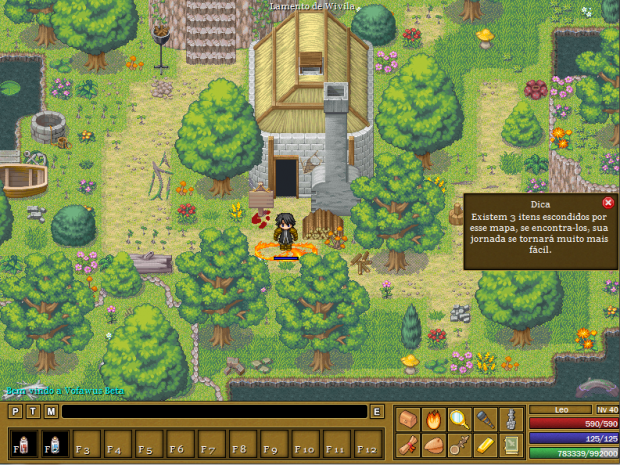 Exploring Caves